A history of quality workmanship, integrity and exceptional results
Our strength is our culture. 
Moretto Building strive to add value through good communications and their attention to detail. Hands-on experience and professional management expertise ensure the effective and successful delivery of our projects.
Moretto Building's managing Director is a second generation builder, through many years of experience Frank has gained a comprehensive knowledge of the construction industry and local business and community needs. 
The company directly employ staff offering a diverse range of personnel ranging from project managers, qualified carpenters, administration to carpentry apprentices, giving significant benefits to Architects and Clients with the ability to deal directly with our company during all aspects of the project. 
Our company characterises a successful project through clearly defined goals and staff roles with open and clear communication resulting in a positive atmosphere for all involved in a project.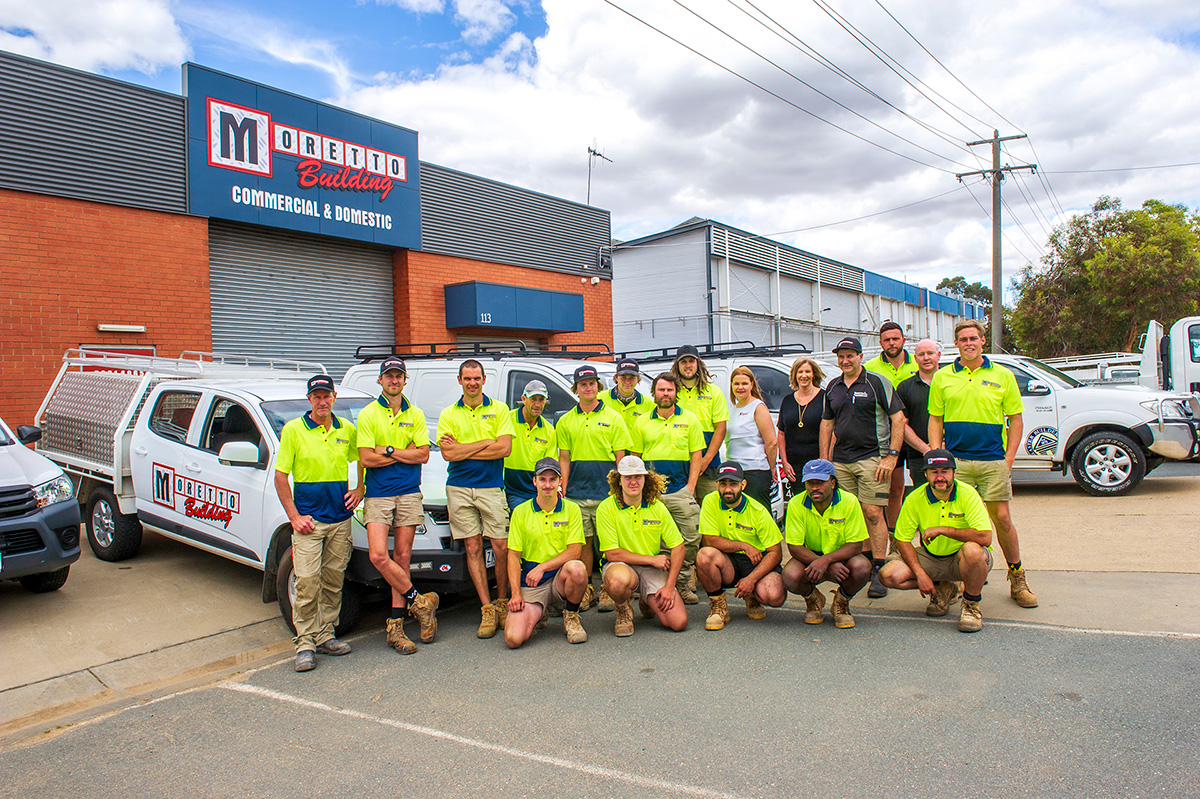 The Moretto Building team
Subcontractors & Suppliers
Moretto Building has a specific trade-letting procedure which is designed to ensure procured products and services meet our requirements for quality and safe standards. We work with many highly regarded subcontractors that provide their vast knowledge and expertise in each trade guaranteeing to complete the works efficiently and effectively.
Moretto Building are committed to offering young and mature age people who are passionate about a chosen career in the Building and Construction Industry, the opportunity to learn an important trade and develop skills for the future through exposure to Commercial and Industrial projects.
Frank Moretto, a second generation builder, obtained his knowledge and drive to expand a successful business based on the skills, values and ethics gained from being hands on in the trade while completing his apprenticeship alongside his father.

Moretto Building have been using the services of The Apprenticeship Factory for over 25 years and during this time has employed over 50 apprentices supported by the business. 
Our company is proud to have experienced the accomplishments of our apprentices by their success stories, having won awards ranging from First Year Apprentice through to The MBAV Victorian Apprentice of the Year – Jordan Hallam, Lachlan Cale, Luke Mills and Corbin Rowan. 
To this day we have employees that have progressed within our company after achieving their Building and Construction Qualifications from commencing their apprenticeship to Project Managers. 
"Frank and Christine Moretto operate a successful business and have employed over 50 apprentices through The Apprenticeship Factory. Many builders only tackle domestic work but Moretto Building gives its apprentices the opportunity to undertake commercial and industrial construction. Frank is an outstanding role model for his apprentices as not only does he give many young people in our community an opportunity to learn an important trade, but he also models how you can run a successful business through hard work and dedication."
Moretto Building provide additional pathways for a career in Building and Construction through Local Learning and Employment Network and Secondary Education careers day.
The company encourage work experience placement, where Students gain insight to the Industry by exposure to different types of construction skills – physical, office, technical, management and design. Students have the opportunity to display their skills, increase their self- understanding, independence and self-confidence.